How do I point my installed isCOBOL to a different Java location?
When you install isCOBOL, it asks you for the location of the Java installation, and saves this path in a file. Then all the executable wrappers installed in the %isCOBOL%/bin folder look for this file to find Java.

If you install a new version or type of Java (OracleJDK to OpenJDK, for instance), you just need to change the path saved in this file to redirect all of the wrappers to the new Java. This file is named and located in different place in the Windows and UNIX/Linux installations:

Windows
Change the java path in the "pref_jre.cfg" file (%ISCOBOL%.install4jpref_jre.cfg).

For example, in C:VeryantisCOBOL2020R1.install4jpref_jre.cfg, change the existing line
C:Program FilesJavajdk1.8.0_241 
To
C:Program FilesJavaOpenJ9_80.232.09 

UNIX/Linux
Change the java path in the "default_java.conf" file ($ISCOBOL/bin/default_java.conf).

For example, in /opt/isCOBOL2020R1/bin, open default_java.conf with vi, and change these lines:

ISCOBOL_JDK_ROOT=/opt/jdk8u242-b08
ISCOBOL_JRE_ROOT=/opt/jdk8u242-b08

To

ISCOBOL_JDK_ROOT=/usr/lib/jvm/java-8-openjdk-amd64
ISCOBOL_JRE_ROOT=/usr/lib/jvm/java-8-openjdk-amd64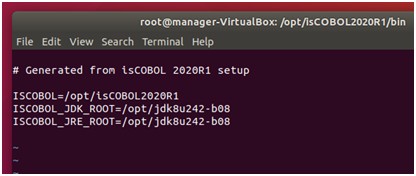 Authored by: Veryant Support This question has been viewed 1719 times so far.
Click Here to View all the questions in isCOBOL General category.
File Attachments
There are no attachment file(s) related to this question.
| | |
| --- | --- |
| User Comments | |
There are no user comments for this question. Be the first to post a comment. Click Here
Related Questions